Kids Safe Program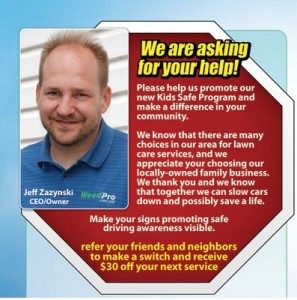 Please help us promote our new Kids Safe Program and make a difference in your community.
We know that there are many choices in our area for lawn care services, and we appreciate you choosing our locally-owned family business.  We thank you and we know that together we can slow cars down and possibly save a life!
Make your signs promoting safe driving awareness visible.
Refer your friends and neighbors to make a switch and receive $30 off your next service!